Heartland NAVHDA, LC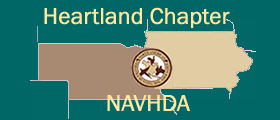 Training
(Click here for additional photos)
Heartland NAVHDA conducts monthly training sessions. Please check the calendar frequently for locations and times. Usually these sessions are organized around a theme such as steadiness or the trained retrieve. Of course, you are also free to work on whatever skills that you or your dog need to develop.
The Chapter has many experienced dog trainers who will be happy to make their expertise available to you. Additionally, there will be a variety of training aids (remote bird launchers, backing silhouettes, etc.) available for your use at the session.
Tracey Nelson is the Heartland NAVHDA Training Director. Please contact Tracey (quickpup25@gmail.com) with any suggestions, comments or requests!
The Chapter will have birds available for training. We charge only our costs for the birds; the Chapter will provide the required training bird tags. We ask only that you contact our Bird Stewards (see below) and reserve the number and type of birds you will need.
Training sessions are usually held at Hunting Hills Farms Brainard, NE. In Nebraska, no hunting license is required for dog training (Nebraska Game & Parks / pg 10). If another location is to be used, that information will be posted on the Calendar of Events.