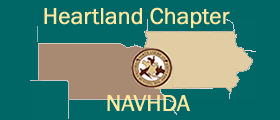 Membership Application

To be a member in good standing of the Heartland NAVHDA Chapter (or any other chapter), you must join both the local chapter and the NAVHDA International organization. The NAVHDA international provides many benefits to members including a subscription the Versatile Hunting Dog Magazine.
NAVHDA International Membership Application Packages
Membership in with the Heartland NAVHDA also affords many benefits to you. These benefits include: monthly training sessions, access to dog training equipment, training expertise of many of our members, hunt tests, training seminars, and interactions with others who share your enthusiasm for your versatile hunting dog. See our Calendar of Events for a list of all the activities we will sponsor in the coming year.
Join Now! Print this form:
Heartland NAVHDA Membership Form